A funny motivational speaker who connects
Team trust, and Connection for teams that need strengthening.
For Education
The Unlikely Teacher
FOR PROFESSIONAL DEVELOPMENT & IN-SERVICE TRAINING CHECK OUT the 3C's: AN IMPROV-BASED PROGRAM CHANGING HOW ALL KIDS LEARN, SPEAK & THINK.
For Business
Motivation: A funny Thing
Motivation for: CORPORATE ENTERTAINMENT • Conventions • Conferences •
Meetings • Trade Shows • Associations • Client Appreciation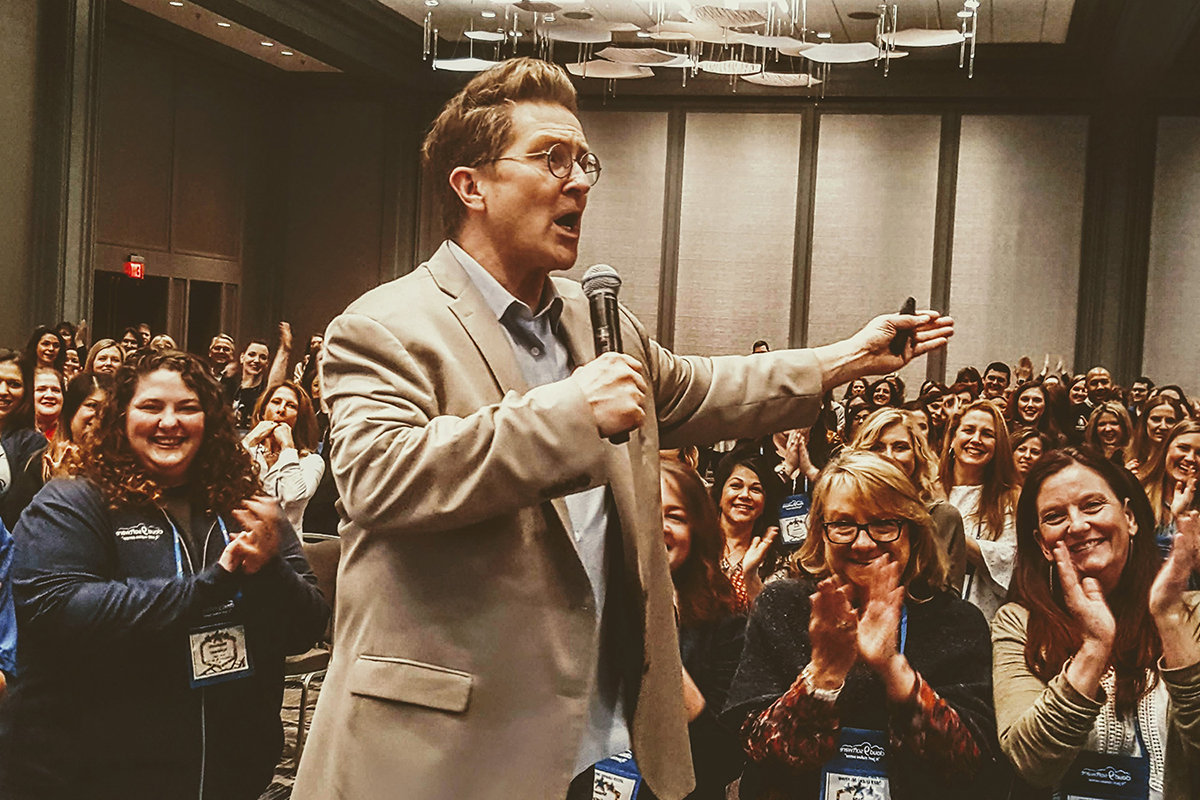 For Business and Education gatherings of all kinds, Tim is the fresh yet seasoned team builder you're looking for to engage and inspire with laughter. Talk with Tim
Corporate Entertainment for Conventions, Conferences, Large Meetings, Trade Shows, Associations, Client Appreciation and Holiday Parties. Learn More
K-12, College and University Convocations, Faculty Development, Staff Days, Teacher Training, In-Service Programs and Continuing Ed. Learn More
A TOP KEYNOTE SPEAKER FOR ALL EVENTS
This one of a kind keynote speaker is an award-winning educator, trained at Second City, with decades of stand-up comedy experience. Tim has distilled his speaking talents into a dynamic compound that increases an audience's energy and connection in the best way.
Funny, dynamic, smart, and engaging; Tim has spoken before a former President George H.W. Bush and opened for Jerry Seinfeld and continues to wow large audiences with humorous keynote speeches that inspire.
Tim Clue is reinventing conferences, meetings, and professional gatherings one funny, motivational experience at a time. His humorous and inspirational keynotes can change the dynamics of any conference. Shared humor, connection and engagement takes time to perfect and this guy's got it down.
"Our ability to laugh together and collaborate builds trust and increases connection; that has value, this is what I do."
If you need an entertaining, motivational speaker for your next conference, contact Tim today to discuss availability and booking.
 
featured: business videos
featured education videos
A NATURAL TEAM BUILDER who usES SHARED HUMOR TO MAKE ALL GATHERINGS MORE CONNECTED.